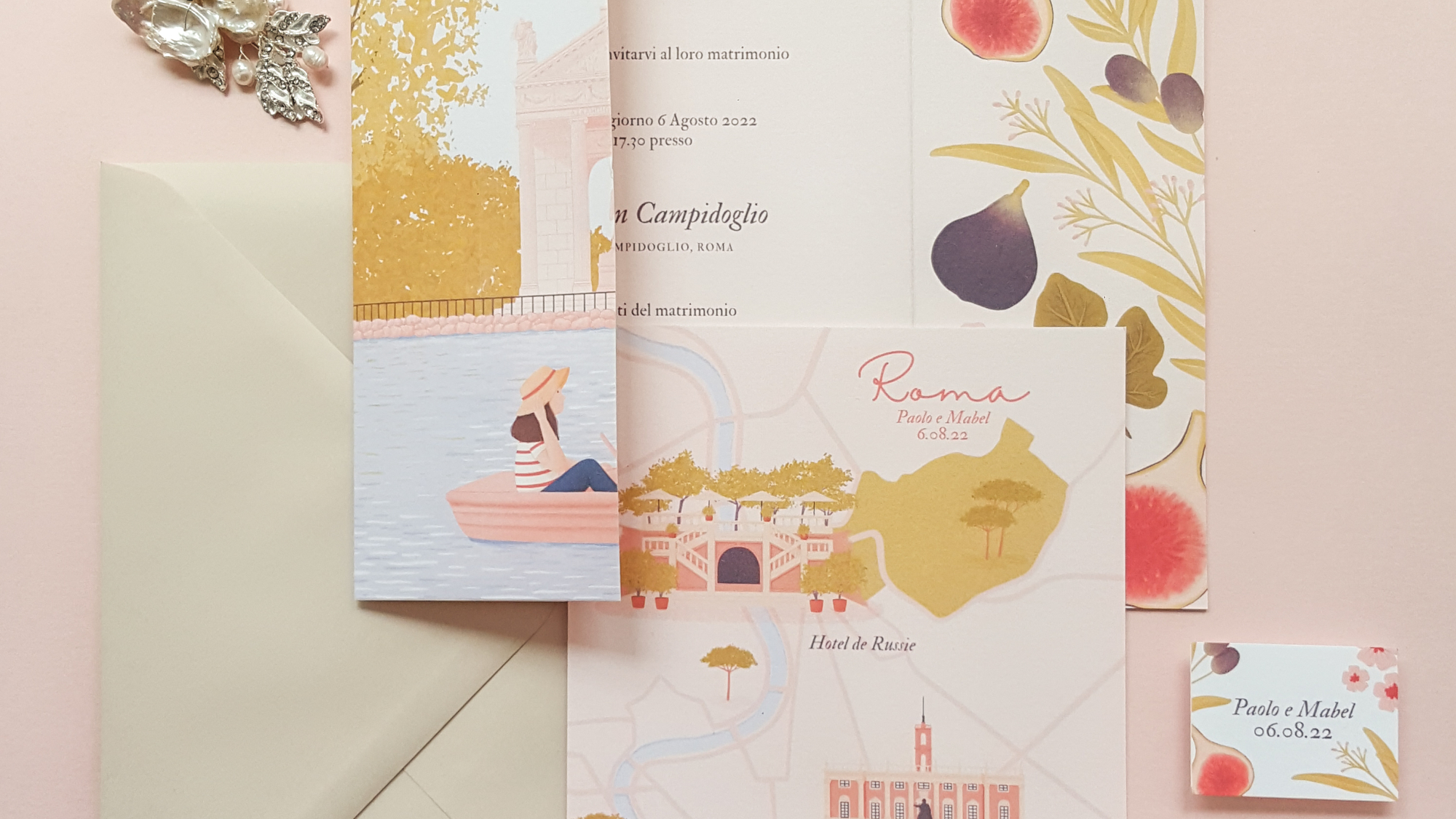 My custom destination wedding invitations and wedding favours
Some of you may already know this, but I got married this past August! 
In this blog post, I want to share some of the highlights of the day, the custom destination wedding invitations and wedding favours I created and also the details that made the event extra special.
The wedding day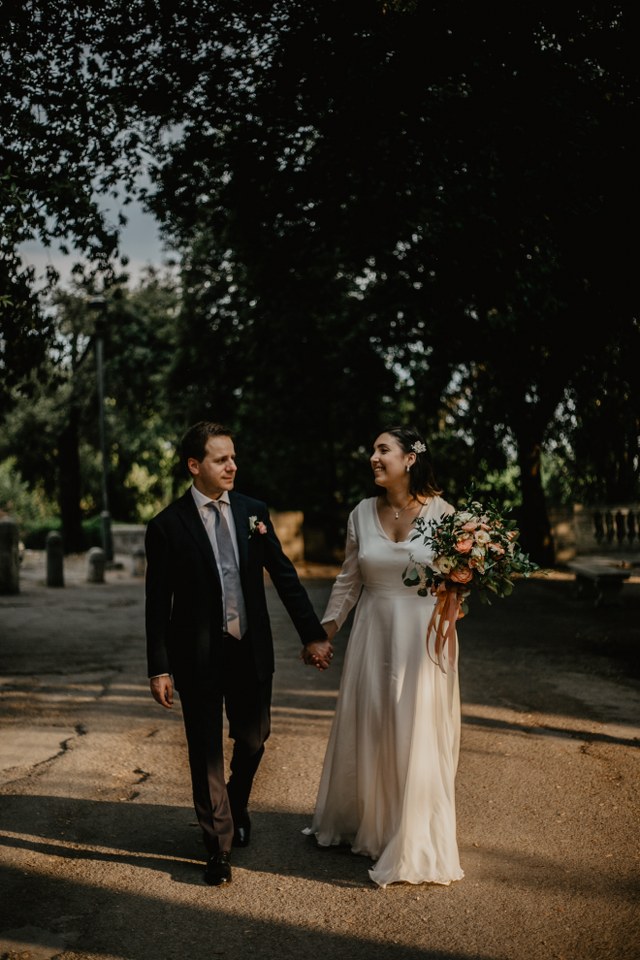 We decided to get married in Rome which is the place where we met and where we created many happy memories together. We arrived in a very hot Rome a few days before the wedding to settle the last bit of paperwork and to spend some time with our families. 
The wedding was on Saturday afternoon with a civil ceremony.
On the morning of the wedding, we had a slow breakfast, chatted and relaxed. 
I decided to do my hair and makeup. I'm glad I did because I enjoyed taking my time to get ready with no rush. 
I've been generally calm during the whole wedding preparation process. Me and my husband have been living together for some years, so getting married was just a formality. Unexpectedly, though, I got tense in the car journey from our b&b to Piazza del Campidoglio, where the civil ceremony was to take place.
I tried with every fibre of my being not to get emotional while I was walking toward my husband-to-be. I wanted to fix every detail of the room and every moment of that ceremony in my memory but in the end, well, I couldn't help it…
We opted for a small and very intimate wedding with only 10 guests. The two of us and our immediate family. I loved the informality of our wedding dinner and the magical backdrop that Rome provided! I will treasure the memory of this lovely day for a long time to come.
My custom destination wedding invitations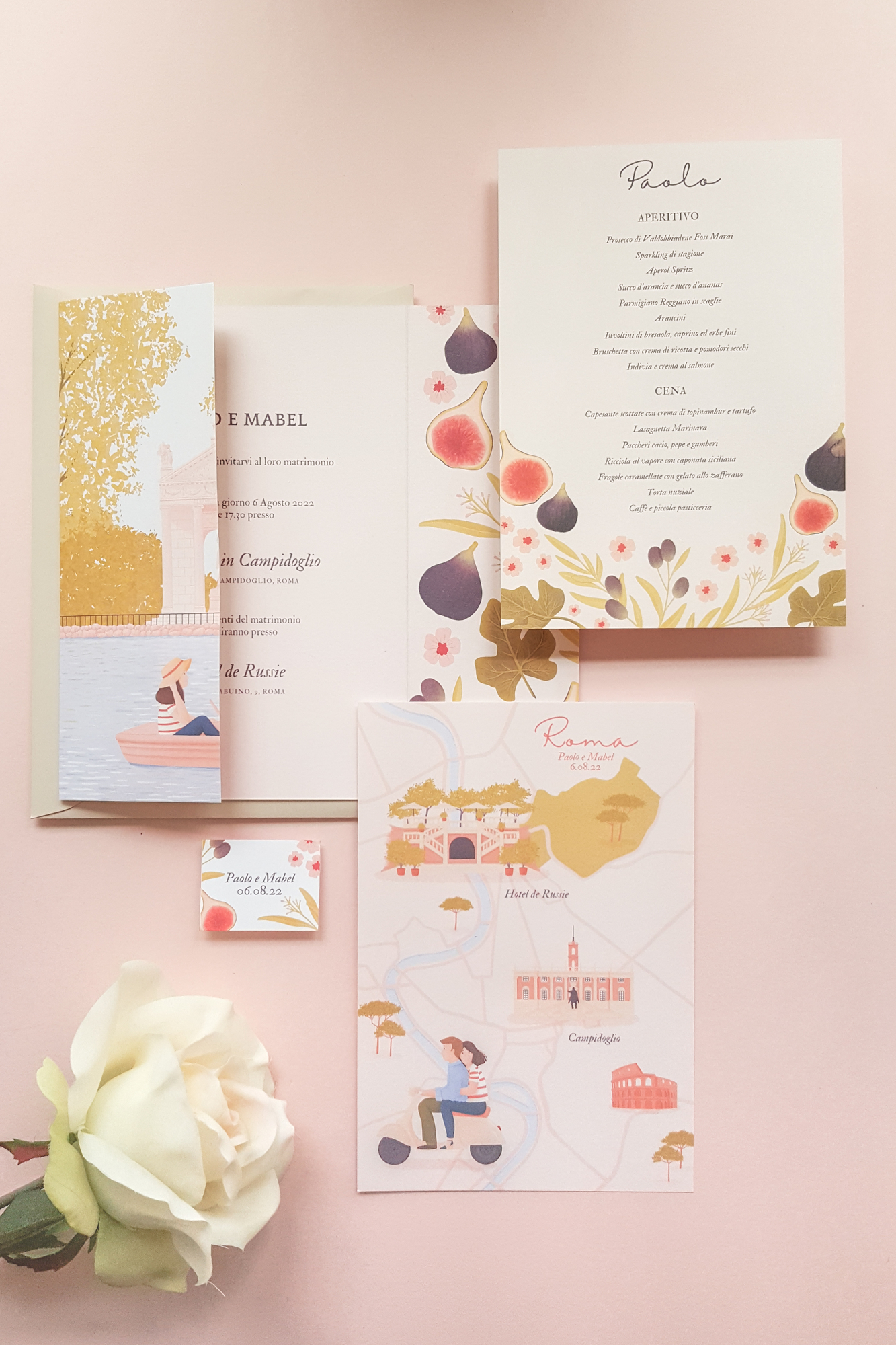 I knew I wanted to do something simple, modern and completely custom for our wedding invitations. So I decided to create the wedding invitation suite myself.
I opted for a gatefold wedding invitation. The illustration I created for the front of the invitations is very personal to us. It celebrates the memories of the years we spent in Rome and it gives a clue about the location of the venue where we had our reception dinner. 
For the inside of the invitation, I created a botanical pattern that is, again, very personal to us. It's a combination of plants we like and that represent us. 
This botanical pattern is also a common thread that ties the whole wedding invitation suite together. I created variations of this pattern and used it on the custom menus and wedding favours.
Finally, I created a custom illustrated map showing the venue for the ceremony and the reception that was put inside the gatefold wedding invitation and sent out to guests. 
My custom wedding favours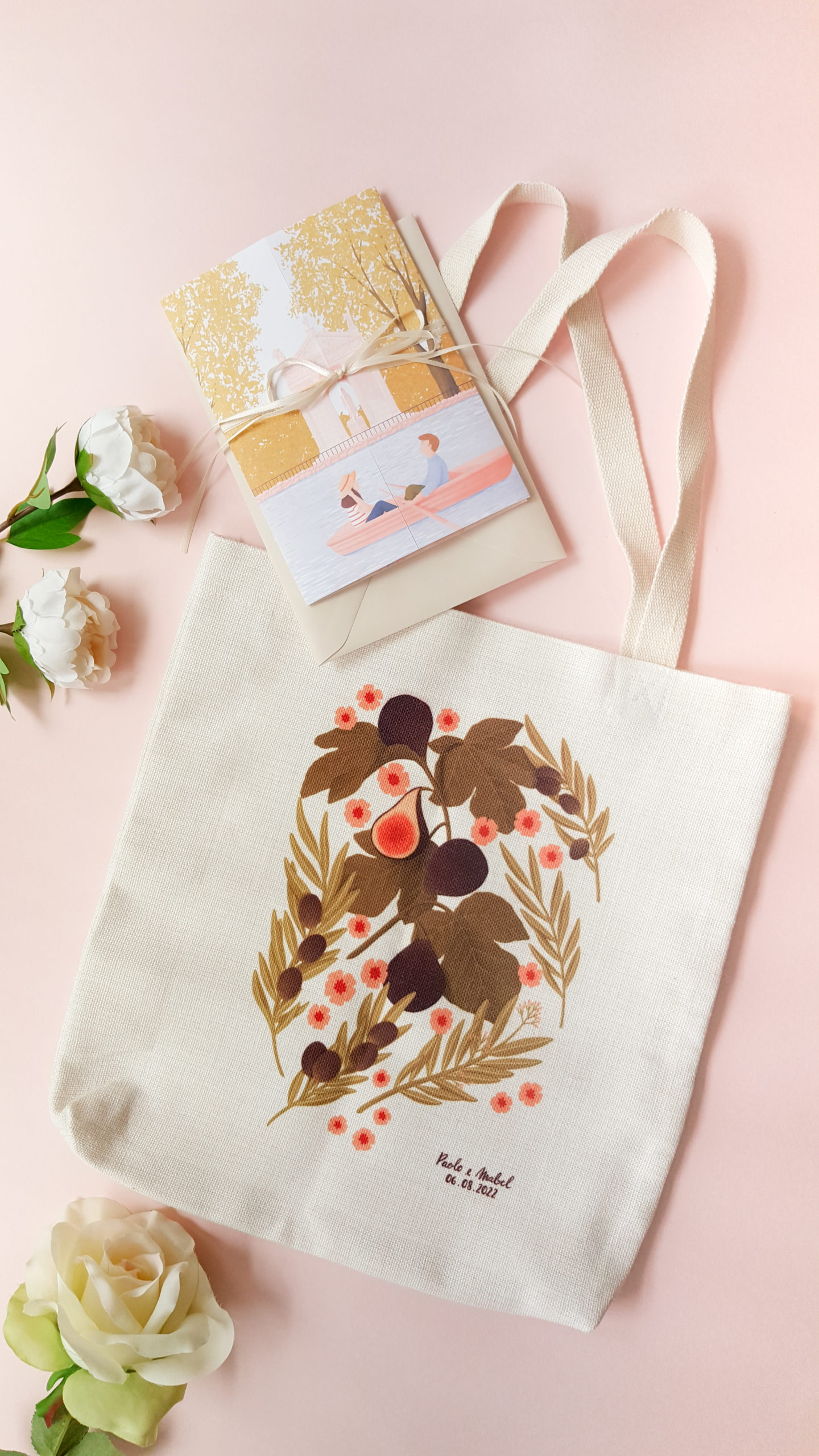 For my wedding favours, I wanted to do something custom, sustainable and most of all useful! So I came up with the idea of printing out a bunch of tote bags made in recycled cotton which were very much appreciated by all the guests. 
The details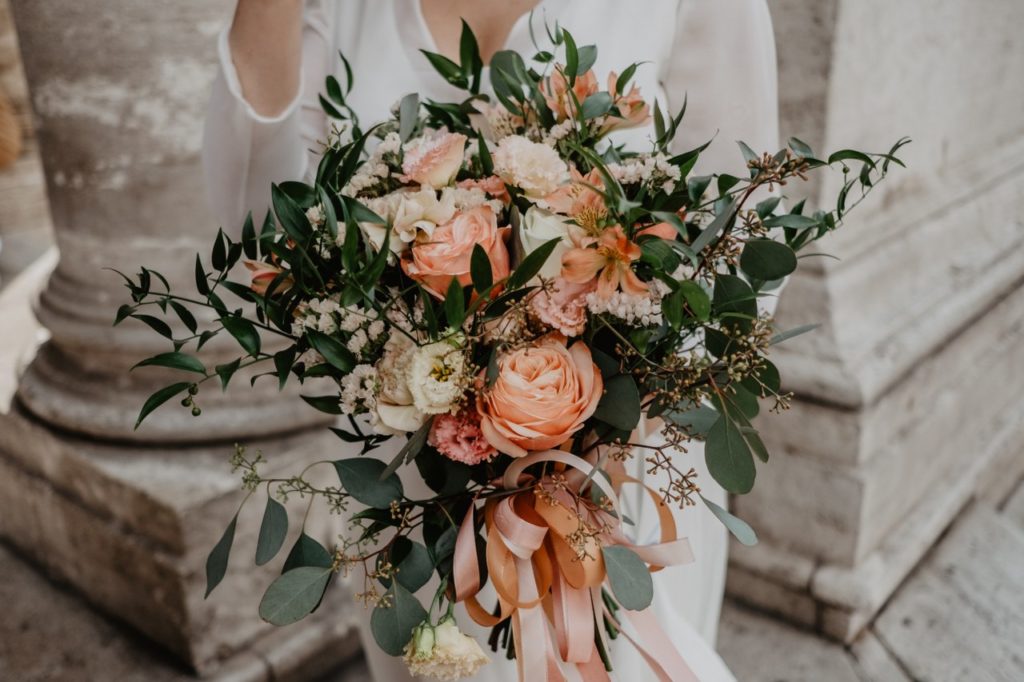 I tried to curate most of the little details for the day myself. For the tasks where I had to rely on other vendors, I worked as much as possible with small businesses.
My wedding dress is a bespoke creation by the amazing team at The Wedding Workshop. I received many compliments on the day for the dress. The whole process of creating something that I truly liked and that I felt comfortable in was bliss.
My earrings and hair clip are from independent business owners on Etsy.
We decided to hire a photographer only for a couple of hours, just to capture some moments from the ceremony and take a small photoshoot of the two of us as a keepsake. I am so happy I found Lucem Photography. Cristiana is not only such a delicate and sensible human being but also such a skilled photographer. She managed to capture the best moments of the day.  
The best memories of the day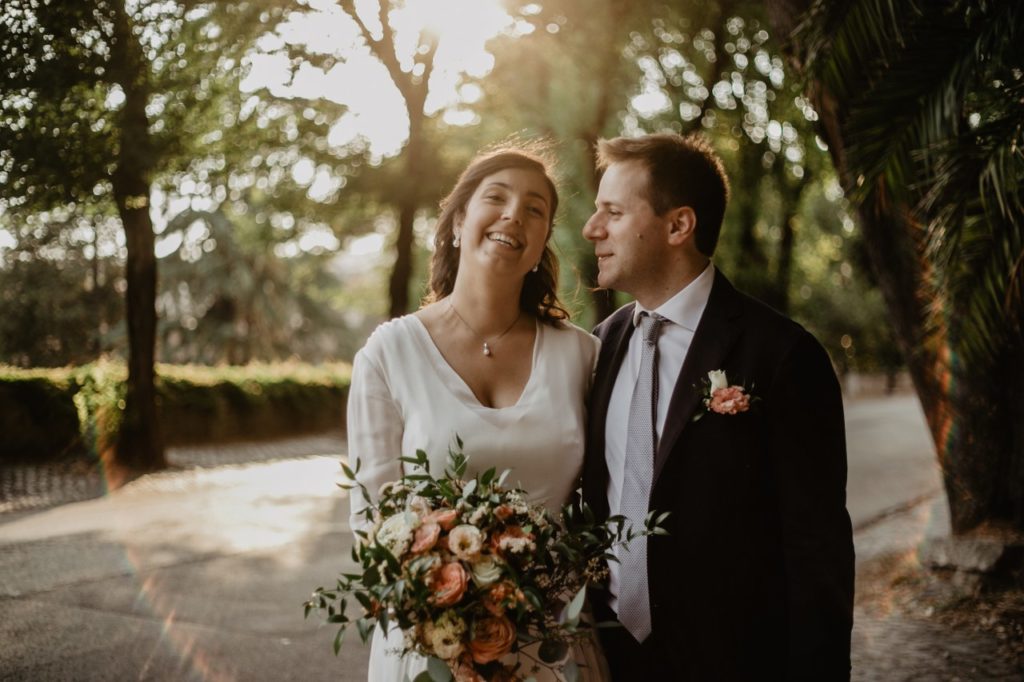 It was such a beautiful day that I wouldn't know where to start if I had to choose the moments I'll treasure the most, but there are some that come back to my mind from time to time. 
I loved all the people who congratulated us on the street when they saw us, I loved the sound of the water coming from the fountain next to our table while we were having dinner. I laugh when my mind goes back to the images of the two of us and our families crossing Piazza del Popolo past midnight to get back to our cars. We were happy, we were tired, we were all extremely hot!
There is also something else that made the night unique and it's one of those things that can only happen in Rome. While we were leaving the hotel where we had our reception dinner, we stumbled upon Lily James who congratulated us while we were all in disbelief that that chat was really happening! 
That's all for now, until next time!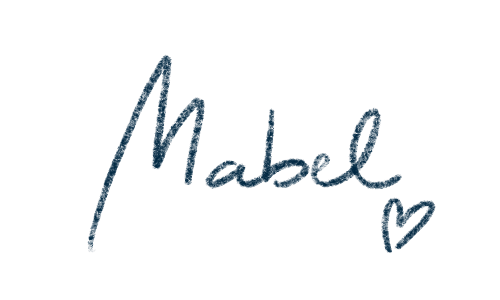 If you are getting married and would like to discuss your custom destination wedding invitations, get in touch! I look forward to chatting with you!
Pin this for later!